H.O.M.E. (Homeworkers Organized for More Employment)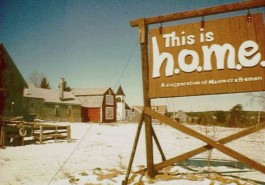 in Orland, ME, was organized in 1970 when a local shoe manufacturer closed its doors. Under the leadership of Sister Lucy Poulin, H.O.M.E emerged as a craft collective to generate home-based work and market the products as a source of income for the women who had been doing skilled piecework for the company.
For the marginalized people of rural Maine, the need for home-based employment was only one of many needs. In the course of finding solutions and creating programs, H.O.M.E. identified more unmet needs within the community and developed more programs to address them. H.O.M.E. began offering basic adult education courses, emphasizing reading, writing and GED preparation. The school also began to offer job training. Next the collective created a daycare center so that women who had small children could bring their children with them when they came to attend the adult education school. The collective began to provide assistance to the isolated elderly. Project Woodstove was created to cut, split, and deliver wood to the elderly, and to check their stoves.
H.O.M.E. realized that there was a great need for access to land and housing where people could have secure tenure and a chance to increase their self-sufficiency. In 1978, H.O.M.E. organized Covenant Community Land Trust. Since then, H.O.M.E. and Covenant have been building houses, which have each been sold-with long-term CLT ground leases–to very low-income families. The houses have been built primarily by volunteers, with donated materials, and with very little conventional financial support.
Today the H.O.M.E. community has a soup kitchen and food bank, a men's shelter, a craft store, a learning center, a thrift store, a garage, a greenhouse, a sawmill, and a number of studios and shops. House by house, family by family, the Covenant CLT has grown over the last 20 years to include 41 houses and 67 families. Over the years, Equity Trust has made five loans to H.O.M.E. and Covenant CLT to provide financial support for these projects.