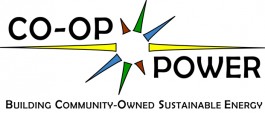 Co-op Power is a consumer-owned renewable energy cooperative operating as a decentralized regional network of autonomous Local Organizing Councils (LOCs) to "create a multi-class, multi-racial movement for a sustainable and just energy future." Co-op Power has home offices in Hatfield, MA, and there are currently five LOCs representing Southern Vermont, three western Massachusetts counties (Franklin County, Hampshire County, and Hampden County), and the greater Boston area ("Metro East").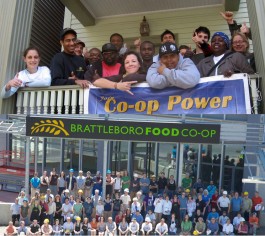 Equity Trust's loan will help Co-op Power, through the Southern Vermont LOC, develop a 30.6 KWP solar electric (photovoltaic) system on the roof of the brand new Brattleboro Food Co-op (BFC) building in downtown Brattleboro, VT. The array of panels and associated equipment will initially be owned by Co-op Power and leased to the Food Co-op. The Food Co-op will benefit from the electricity that is generated—almost 33,400 kilowatt hours in year 1—from this renewable energy source. Approximately 10,000 pounds of carbon emissions will be saved yearly. After five years, Brattleboro Food Co-op intends to purchase the system from Co-op Power.
The 4-story building that will carry the solar array was developed in 2011-2012 in partnership with the Windham-Windsor Housing Trust and Housing Vermont. In addition to housing the Food Co-op, it provides 24 affordable rental apartments on the upper two floors . During the design input process for the new building, BFC members identified sustainability as a top priority. While the new store is a model of green building and energy efficiency, plans to install solar had were initially tabled for three to five years due to the additional cost of installing a system at a time when the Food Co-op already has its hands full paying for the new building. With Co-op Power stepping up to develop the project, Brattleboro Food Co-op will be able to benefit from solar power without the burden of financing the system.