Jeff and Annie Main have spent close to forty years developing their organic farm, Good Humus Produce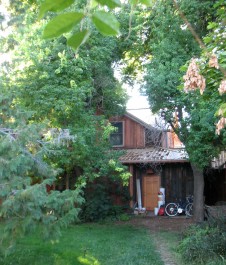 , on 20 acres in Capay, CA. They have built a house and a barn on the property and their plantings include hedgerows of native trees that serve as windbreaks and a source of fuelwood, as well as 10 acres of annual crops, a large flower and herb garden, and a diverse orchard, all organic. They operate a CSA providing vegetables and fruit once a week for 48 weeks out of the year to 175 members in the Sacramento region, Davis, Woodland and San Francisco. Optional fruit and flowers, along with bread from a local bakery, are available, and Good Humus supplies a "winter and fruit share" for some of the members of the Live Power Farm CSA, which Equity Trust has also assisted. The Main's have been actively involved in their agricultural community in other ways for many years, having helped to start both the food co-op and the farmers market in Davis, CA.
Equity Trust has a long partnership with the Mains and Good Humus Produce. An Equity Trust loan allowed the Mains to build a new house on their land. In addition , Equity Trust has  been supporting the Mains as they work to realize a vision, beyond their own tenure on the land, for permanently protecting  Good Humus Produce as working farm that will continue to provide food for the surrounding communities. Over the years, Equity Trust has provided guidance and technical assistance on the development of an agricultural conservation easement that will permanently protect the land, inspired in part by the easement we hold on Live Power Farm. The easement the Mains want to see on the land will require that the land be farmed sustainably, that the farmer(s) live on the land, and that at least half of the farmer's income be derived from farming the land. It will also ensure the farm remains affordable to future farmers. In addition to consulting on the easement itself, Equity Trust has been accepting donations to a fund that we will use to help a land trust purchase such an easement.
Recently the Good Humus Produce protection effort has been boosted by the interest of the Sacramento Natural Food Co-op, the Davis Food Co-op, and the Columbia Foundation who together created One Farm at a Time, a fundraising tool designed to give "Co-op shoppers the opportunity to invest in the future of the farms that provide their food." With Good Humus as their first featured project, the effort has raised over $300,000 in addition to the approximately $100,000 held by Equity Trust to protect this. We look forward to seeing the Mains achieve their vision in the near future.
For more on Jeff and Annie Main and Good Humus Produce, see this feature story from Farm Aid and Chuck Schultz's in progress film, The Last Crop.